1 Energizer Silver Oxide SR1120SW SR1120W SR1120 1.55V Watch Battery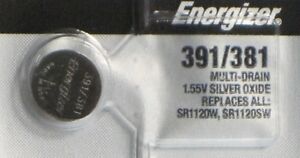 ---
BRAND NEW!!!

1 Super Fresh Energizer SR1120SW Silver Oxide 1.55V Watch Battery 

Sealed in original Package

1 New Type SR1120SW Energizer Batteries. Brand New & Guaranteed Factory Fresh. The shelf life on Energizer Batteries is 5 + years.   Works in: Watches, computer motherboards, calculators, PDAs, electronic organizers, garage door openers, toys, games, door chimes, pet collars, LED lights, sporting goods, pedometers, calorie counters, stopwatches and medical devices  Equivalent to: 381, 391, SR1120W, SR1120SW, 23, 34, 91A, 191, 280-30, 609, AG8, D381, D391, GP91, L, LR1120, L1121, LR112, LR55, S1121, SB-BS, SB-ES, SG8, SR1120, SR55, V381, V391, V8GS, V8GA

                                      

Energizer 391-381 Please Visit my store for Our Low Prices

 

Origin of batteries may vary. Batteries are made in different locations in the world such as the usa, indonisia ,china, japan ,etc. Since manufacturers may change the place of manufacturing without prior notice ,we cannot guarantee a certain place of manufacturing.