Blossom Hill Sauvignon Blanc 2017 (12 Bottles)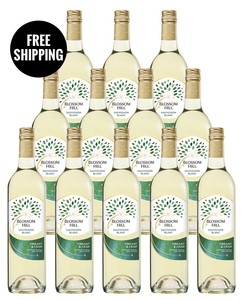 ---
Reds click Shiraz Cabernet Sauvignon Merlot Pinot Noir Other Red Blends Whites click Sauvignon Blanc Chardonnay Pinot Gris & Grigio Riesling Other White Blends Sparkling Mixes Others click Beer/Cider/Spirits Rosé Premium & Top Shelf Top Sellers & Favourites
Blossom Hill Sauvignon Blanc 2017 (12 Bottles)
$155.88 $99.00
Free delivery on this item
Hurry, not many left!
Vibrant and Crisp Sauv Blanc!
Sunny and vivacious, this crisp and lovely Sauv Blanc makes for superb spring and summer sipping! With zesty tropical fruit aromas and fresh flavours of zingy citrus, it's refreshing and fruit-forward, pairing like a dream with dripping fresh seafood and a warm, sunny day! Don't miss it!

The Bottom Line Springy and vibrant - a lovely, lush White! Fantastically refreshing and excellent with seafood and South East Asian cuisine! Like a tropical vacation in a glass! FREE DELIVERY!!

From the Winery: "Enjoy with tasty meals like Thai Green Curry for some delicious zang to this zing! This light White wine is also perfect to share with friends over great, spicy conversation!"

Prices displayed may vary for the Northern Territory. Read More Here
Tasting notes
| | |
| --- | --- |
| Vintage | 2017 |
| Drink until | |
| Regions | australia |
| Varieties | sauvignon blanc |
Colour

Pale gold

Food Nose

Tropical and passionfruit aromas

Palate

Refreshingly crisp and zesty with mouth-wateringly fresh citrus flavours.

Get the best Inside Deals 100% Money back guarantee Australia-wide delivery Need help? Send Us a Message
The WineMarket Guarantee
You'll get Great wines... Matched with Unbeatable value... Plus our Happiness guarantee... Topped off with Secure and easy payments Our Policies Delivery Options Returns Policy Privacy Policy T's & C's Customer Promise
Subcribe to our newsletter
Subscribe
Copyright © 2015 WineMarket Pty Ltd. All Rights Reserved. Licence No. 51402336. ABN 26130782919. Liquor Licensing Act 1997 (SA) WineMarket supports the responsible service and consumption of alcohol.
Siegersdorf Road Tanunda SA 5352 Australia