Cannabis Flavoured 1 1/4 Size Hemp Cigarette Tobacco Rolling Papers 32 Leaves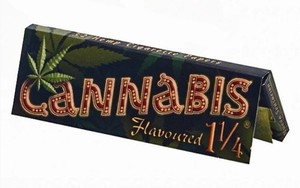 ---
  Menu Home About us Warranty Shipping Contact
PAYMENT
We accept PayPal and Direct Bank Deposit.
NEWSLETTER
Sign up to our newsletter for all the latest deals!
CONTACT US
Questions or Queries?

Contact Us
Rollies Bad Ass Rolling Papers - 1 1/4 Size 50 Leaves Cigarette Smoking Tobacco
Item description
Cannabis Hemp 1 ¼ Flavoured Rolling Papers are the organic hemp paper that you need if you want to add a tangy herbal taste to your smoke. They have also been scented to enhance the flavour. All of the Cannabis Hemp 1 ¼ papers have a really cool cannabis leaf print on them matching the artwork on the box, which is made from recycled materials. Each packet contains 32 leaves. Herbal Flavoured 1 1/4 Paper Made from Organic Hemp 32 Leaves Per Pack Size: 75 x 44mm Does not contain any Cannabis.
Whats Included
32 Leaves per Pack

Contact Us Payment Warranty Shipping

We are an Australian owned Family run company. We are only too happy to help with any queries you might have. We aspire to bring you high quality products. We believe in a fair pricing system and providing excellent customer service to our customers. Feel free to contact us any time and we will be happy to assist you no problem is ever to difficult. Should you run into any problems please contact us prior to leaving feedback so we can assist you to solve the problem.

We accept payment by Paypal or Bank Deposit

All our items are covered by our money back guarantee. At super sales and bargains, we are committed to offering you a safe and pleasant shopping experience so if something does go wrong, we are here to help you! If you change your mind or make an incorrect choice, we will refund you within 14 days of delivery for unopened products (excludes delivery costs). If your item arrives damaged we will arrange a replacement or refund. If your item develops a fault after delivery, we will assess your claim and offer a replacement, refund where appropriate.

We ship all our items within 24 hours of payment being received (echeques maybe take longer). We post australia wide and overseas on request.

Super Sales and Bargains

Home |  About us |  Warranty |  Shipping |  Contact