ENGLISH TEA SHOP Organic Tea Advent Calendar Red Book Style Gift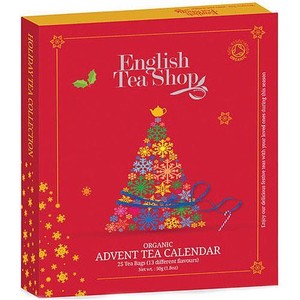 ---
Official Store ENGLISH TEA SHOP Organic Tea Advent Calendar Red Book Style Gift

The super popular Tea Advent Calendars are back for 2018!

Surprise your loved one this festive season with a unique gift idea! The English Tea Shop Advent Calendar spreads the love for tea with little numbered boxes containing one tea for every day in December leading up to Christmas. An invigorating gift in a red book style box preparing you for Christmas. The English Tea Shop sources only the finest, tastiest ingredients, dealing directly with farmers and producers from all over the world. They have some of the most experienced tea blenders, formulators and tasters in the industry, and their manufacturing facility is in the heart of Sri Lanka, meaning they can rely upon tried and tested tea techniques, along with a few modern processes, to deliver truly delicious, sustainable, yet economical solutions.

English Tea Shop Tea Advent Calendar is a perfect gift for the time leading up to Christmas, it contains 13 variations of tea and 25 bags, one for everyday up to Christmas.
Buy the ENGLISH TEA SHOP Organic Book Style Advent Calendar in Red Online
Benefits

A unique and premium organic tea advent calendar perfect for this festive season and delivered straight to your home or workplace!

25 Tea Sachets in 13 Festive Flavours:

White Tea Lychee Cocoa, Post Festival Cleanse Me, Chai Immune Boost, Energise Me for Holiday, Unwind me for the Season, Peppermint Melon, Moroccan Spice, Oolong Lemon Raspberry, Christmas Cake, Coconut Chai, Black Tea with Honey & Melon, White Tea Coconut & Passion Fruit, Candy Cane.

Features Certified Organic Teas 25 boxes with various tea blends Fair trade produced tea A premium gift for the festive season MORE Christmas Tea Advent Calendars and Gift Ideas Why buy from us?

'Australian Organic Products' offer the English Tea Shop range at a discounted price online. You can also enjoy:

Shopping outside business hours Low shipping costs Great Savings! All products below RRP! Want a further discounted price?

Our prices are already discounted, but if you buy 5 or more of the same item you get further 5% taken off (automatically during checkout).

View our full English Tea Shop range at sale prices! SHIPPING RETURNS PAYMENT

Free Delivery :)

RETURNS POLICY Change of mind Australian Organic Products happily accepts returns if you change your mind as long as the product has not been used and it is still in the original packaging. A store credit will be issued once the returned item is received. Please contact us within 14 days to receive your Return Code for returns. Faulty Items / Damaged Goods In accordance to Australian Consumer guidelines, Australian Organic Products will always replace or repair any fault items or if your item has been broken in transit. If the item can not be replaced we will issue you with a store credit or refund. Please contact us within 48 hours. Conditions of return, if applicable: Our Customer Service Team must authorise any goods prior to their return for exchange. Please include a copy of the invoice and an explanation for return with all returned products. Products must be returned in original packaging within 14 days from the time of return request. Please retain broken parcel/s (and packaging) until authorised by us, as they may be required by our Courier and/ or Australia Post as proof of damage. The customer will pay return freight in circumstances of incorrect ordering or cancellations after dispatch. Australian Organic Products Pty Ltd will pay return freight on items sent by us in error unless the customer agrees to purchase the item/s. Return stock will not be credited where poor packaging by the customer results in goods being broken in return transit. Only unused, faulty items may be credited or exchanged. Faulty products are returned to manufacturer for replacement product.

We Accept Paypal
ABOUT OUR COMPANY
An organic way of living and eating is the first step to a healthy lifestyle. Embrace your organic self by starting from the very best that nature can provide. At Australian Organic Products, we believe that everyone deserves a break from atrocious effects of pollution, chemicals and other toxins while giving back to our planet. What do we do? Australian Organic Products is the most trusted online retailer for natural and Eco-friendly organic products throughout Australia. We have four years of experience of providing a wide range of the most popular organic products in the market. We are constantly extending our collection to provide healthier options to Australian consumers and we work only with trusted Australian organic product manufacturers and distributors to determine the best, safest and most effective organic items for a variety of needs. From beauty products to food and grocery items and of course products for an Eco-friendly and chemical-free home, we take pride in delivering premium items to your doorstep. How do we choose the best products? We always make it to the point to test the products ourselves before offering them. We team-up with well-known suppliers and manufacturers so you can have peace of mind that what you are getting is organic. If you are new to the healthy and exciting world of organic living, you can read more about in our informative articles available below and of course you can also contact our dedicated team that is more than happy to assist you in your organic product shopping.

© Copyright 2017