Johnnie Walker White Walker Game Of Thrones Scotch Whisky 700ml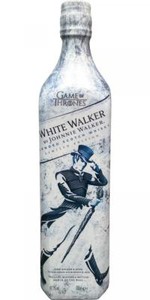 ---
Boutique Cellar - Official Store NEW ARRIVALS T&Cs T&Cs

Warning; Under the Liquor Control Reform Act 1998 it is an offenceTo supply alcohol to a person under the age of 18 years (Penalty exceeds $6,000)For a person under the age of 18 years to purchase or receive liquor (Penalty exceeds $500)Victorian Liquor Licence Number: 36120531

X CLOSE CONTACT CONTACT

Due to recent policy changes we can no longer take calls directly to us. You can however still contact us directly via messages.

X CLOSE FAST SHIPPINGAUSTRALIAN OWNED WINE WORLD WHISKIES AMERICAN WHISKEY / BOURBON SCOTCH WHISKY CANADIAN WHISKY JAPANESE WHISKY INDIAN WHISKY FRENCH WHISKY AUSTRALIAN WHISKY VODKA GIN LIQUEURS ARMAGNAC / COGNAC

700ml / 41.7% Limited Edition Game Of Thrones Release

Created by whisky specialist George Harper, alongside the small team of expert blenders at Johnnie Walker, this innovative whisky is best served directly from the freezer, echoing the chilling presence of the White Walkers. Johnnie Walker Blender George Harper used the Frozen North as his inspiration for creating the liquid noting that, "Whiskies from Clynelish have endured long, Scottish winters, not dissimilar to the climate north of the wall - so it was the perfect place to start when creating this unique whisky." White Walker by Johnnie Walker features notes of caramelized sugar, vanilla, and fresh red berries with a touch of orchard fruit. While it's best served cold directly from the freezer, this whisky also develops wonderful complexity as it warms to room temperature.

Johnnie Walker White Walker Game Of Thrones Scotch Whisky 700ml
Description
700ml / 41.7% Limited Edition Game Of Thrones Release
Created by whisky specialist George Harper, alongside the small team of expert blenders at Johnnie Walker, this innovative whisky is best served directly from the freezer, echoing the chilling presence of the White Walkers. Johnnie Walker Blender George Harper used the Frozen North as his inspiration for creating the liquid noting that, "Whiskies from Clynelish have endured long, Scottish winters, not dissimilar to the climate north of the wall - so it was the perfect place to start when creating this unique whisky." White Walker by Johnnie Walker features notes of caramelized sugar, vanilla, and fresh red berries with a touch of orchard fruit. While it's best served cold directly from the freezer, this whisky also develops wonderful complexity as it warms to room temperature.
Freight
Boutique Cellar is able to deliver to the majority of Australian suburbs using various delivery methods at our discretion. - All packages dispatched by Boutique Cellar are insured to their full purchase price and will be either replaced or the purchase price refunded in the event of loss or damage in transit. - Items purchased from Boutique Cellar will only be dispatched to the registered address as it appears on . If you would like to alter the delivery address, please put this in writing immediately after payment has been made to ensure an easy and smooth transaction.
Pickup is not available from the Boutique Cellar warehouse due to Liquor Licensing laws in Victoria. - Proof of age may be requested at any point in time throughout the order process in accordance with Victorian Liquor Licensing Laws.
Warning; Under the Liquor Control Reform Act 1998 it is an offenceTo supply alcohol to a person under the age of 18 years (Penalty exceeds $6,000)For a person under the age of 18 years to purchase or receive liquor (Penalty exceeds $500)Victorian Liquor Licence Number: 36120531
Recommended For You
Data updates only when live in

Jack Daniel's 1987 Fake Seal Tennessee Whiskey 375ML RARE

$499.99

Nikka Coffey Malt Whisky Japanese Whisky 6 x 700ml 45%

$729.99

Absolut Andy Warhol Edition Vodka 700ml

$99.99

Jim Beam Distiller Series No.3 American Bourbon Whiskey 700ml

$249.99 © 2018 Boutique Cellar, All rights reserved..