3x Juicy Jays Pick n Mix Kingsize Slim Flavoured Rolling Papers Assorted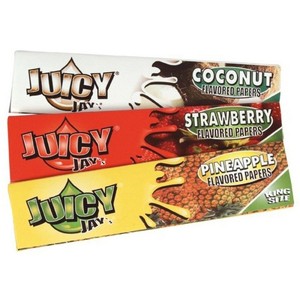 ---
Official Store 3x Juicy Jays Pick n Mix Kingsize Slim Flavoured Rolling Papers Assorted

Juicy jays are well known worldwide for creating the most juiciest flavour papers on the world! Each packet of the flavoured papers have been individually sealed to retain the freshness, ensuring from the first paper of the 32 papers to the very last the flavour stays in the paper! To maintain the flavour throughout the paper they use a Triple- Dipped Flavouring System and Soy-based ink with natural sugar gum to make Juicy Jay's flavoured papers so mouth watering. A paper slip folded in with the leaves reminds you when you're running low. One single pack contains 32 rolling papers. Flavours to be send assorted:

 

Jamaican Rum

Blueberry

Strawberry

Watermelon

Cotton Candy

Blackberry Brandy

Double Dutch Chocolate

Raspberry

Bubblegum

 

 

Did You Know?Did you know that the average human has about 10,000 taste buds, however, they're not all on the tongue. Some are under the tongue, some are on the inside of the cheeks, some are on the roof of the mouth. Some can even be found on the lips, that's why Juicy Papers and wraps taste so amazingly good. Juicy has 3X more flavor than their bland competitors!

*Juicy Jays King Size Slims*Triple-Dipped Flavouring System*Individually Sealed For Freshness*Mixed Flavours*Soy Inks*32 Leaves Per Pack*Size: 110mm x 44mm

 

WE WILL SEND ASSORTED 

SHIPPING RETURNS PAYMENT

All our products are sent out in plain color and discrete packaging. We endeavor to dispatch your order the same day when ordered by 12pm but allow us until the next day to dispatch your order. In cases you require express shipping, please get in touch before you buy with your shipping address so we can align shipping time frames with your expectations.

We want you to be happy so in case you change your mind or if the product is defective you can return your goods as long as it is unused and unopened. 

Select the option you want, you can pay via Paypal or Bank deposit.

Products are sent out when the payment is cleared.
ABOUT OUR COMPANY
We are Hemp Market and we focus on retailing Hemp related products. It is a one stop shop for Gifts, Smoking accessories, Rolling Papers, Blunts & Hemp Wraps & Hemp Hemp Bodycare. Our aim is to exceed your expectations so do not hesitate in sending us a message in case you have any queries.

© Copyright 2017