NEW Massage Executive Gaming Office Chair Computer PU Leather Mesh Seat Work AU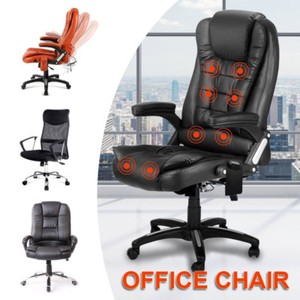 ---
Home & GardenCar AccessoriesElectronicsPet SuppliesOutdoorSportsEntertainmentPC AccessoriesIndustrialHealth & BeautyPhones & AccessoriesComputer PC / TabletOther

New Arrival 

HP 15.6" Topload Case with Shoulder Strap

Durable materials

Pockets with purpose

1 year HP Commercial Guarantee

 

$30.00 + Free Shipping

Message Chair

Providing extremely comfortable seating, these ergonomic chairs conform to the natural curve of the spine. Not only considering comfort but also provides care to your body health conditions. It features the standards, 360 swivel, tilt function and gas lift height adjustment and is also designed with other exclusive features that makes it an elite.Consisting of eight massage points at four levels including the neck, back, lumbar and thighs with customisable settings, it can help to increase circulation, stimulate muscle movement, relieve tension and improve productivity. Maximise comfort and increase productivity. It's your ideal executive chair.

Features

Premium PU synthetic faux leather High back design Extra thick multi layer padded seat Padded headrest & armrests Tension tilt adjustment Heating function 6 modes of vibration to match your preferred speed and intensity BIFMA tested height adjustment gas lift 360 degree swivel Nylon base and castors Wireless remote Storage remote controller pouch CE, EMC, LVD, ROHS, SGS approved SAA plug approval

Specifications

Power: 240V/50Hz Power cable length: 185cm 8 massage points at 4 levels: Neck, Back, Lumbar, and Thigh 3 massage intensity: Low, Medium, High 3 timer settings: 10 / 15 / 20 minutes Max. Weight capacity: 200kg Colour: Black, Amber Weights & Dimensions Overall: 32cm W x 67cm D Seat: 50cm W x 60cm D Base: 67cm W x 67cm D Cable length: 185 cm Maximum Overall Height - Top to Bottom: 117cm Minimum Overall Height - Top to Bottom: 107cm Chair Back Max Height: 70cm Chair Back Width: 48cm Overall Product Weight: 17.67 Kg

Package

1 x 8 Point Massage Office Chair 1 x Remote 1 x Manual

Mesh Chair

Imagine a level of style and comfort that will give your home or office an extra touch of designer and distinguish appeal. That's what our latest Executive High Back Mesh Chair is all about. With its noir faux leather finishing, the Executive High Back Mesh Chair is well-appointed from top to bottom. Padded headrest, S-shape contour high back, breathable fabric and a stylish chrome base characterize this stunning chair that would fit perfectly in any setting, from the bedroom to the boardroom. Further enhanced with both tilt and gas lift adjustment, the Executive High Back Mesh Chair also makes for durable comfort all round with its 360 swivel seat. After all, there's definitely nothing like a good chair to help relieve the stress and strain of our very pressurized world. If exceptional quality has always been one of your main criteria in determining what works for you, our Executive High Back Mesh Chair satisfies your requirements in every possible way.
Features
High back mesh design PU synthetic faux leather Highly breathable fabric Padded headrest Stylish chrome base Tilt adjustment Gas lift height adjustment 360 degree swivel seat Easy to cleanPerfect for home, office, conference rooms SGS-approved
Specifications
Materials: PU leather and mesh Base dimensions: 64 x 64 x 116cm Colour: Black
Package
1 x Office Chair 1 x User Manual

Premium Chair

New Black Executive High Back Premium PU Thick Padding Leather Office Computer Chair The PU Leather Thick Padding Office Chair provides comfortable seating and a sophisticated feel to your office or home at one time whilst keeping the price affordable. It conforms to the natural curve of the spine. The high back with the headrest allows you to sit back and the built-in lumbar support will suit your personal seating preference. The seat is more heavily padded than the rest on the market. The chair features the gas lift function which allows easy height adjustment and it is 360 degree swivel. It also features a tilt function to spoil yourself for a little while. The chrome metal base with 5 castors brings additional stability and mobility.
Features
PU synthetic faux leather material High back design Multi layer padded seat Padded headrest and armrests Tilt adjustment Gas lift for height adjustment 360-degree swivel Durable chrome base with five castor wheels Meet SGS safety standards High weight capacity: Approx 150kg Easy to assemble Easy to clean Note: Please ensure that bolts, screws, and knobs are checked regularly to maintain proper usage, especially with high-level use (8+ hours per day).
Specifications
Style: Executive / Managerial Seat/Back Material: PU Leather Colour: Black Dimensions: 55 x 60 x 120cm Overall dimensions: Please refer to gallery
Package
1 x High Back Office Chair 1 x Assembly Manual

You may like 

Portable Folding Aluminium Step

 

$38.81 + Free Shipping

DeliveryFeedback & Customer ServiceReturn & WarrantyTerms & ConditionsDelivery

A physical street address is required for all deliveries. It's important to us that every parcel completes its journey safe and sound. But we appreciate that some remote locations may only have the Post Office Box as an alternative collection point and if this is the case, we may opt to have these parcels returned to us in the case of non-deliverable by the delivering courier company and cancel/refund your order as a result.

 

Location: This product is ready to ship from our Sydney-based warehouse.

Expect dispatch 1 - 2 business days. 

Expect delivery times are 2 - 8 business days Australia wide (from daye of despatch). Please note that delivery's to WA may take 4 - 10 in transit once dispatched.

Please note, all the delivery dates times are provided by a third-party service provider and are only estimates.

Courier company: AUS POST & Other local couriers (eg: Fastway). Please note the courier company will be chosen automatically for you depends on your location.

Note: Please make sure the contact name, mobile number and address were written clearly. Missing or wrong information may cause delay, additional charge, or lost.

Feedback & Customer Service

WE CARE ABOUT YOU

We pride ourselves on our great before and after-sales service and wide product range.

EVERY customer is important to us and we will do our best to ensure that your experience with us is nothing less than excellent. Sometimes, though very rarely, we can make a mistake - we are human after all. If you feel we deserve less than 5 stars for any reason, please let us know before you leave your feedback so we can address your concern.

Please send an email via My messages. You will usually receive a reply within one business day. During sales, it may take longer to receive a reply due to the increased volume of customer enquiries. 

For any before-sales enquiry, please make sure the item number is written. For any after-sales enquiry, please make sure your  username or sales record number is written.

Return & WarrantyChange of Mind? No worries! If you change your mind on an item purchased, you can receive a full refund less the inspection and restocking fee from $7 which will be provided to you prior to your return. Goods must be returned in original condition, with proof of purchase, within 30 days of the purchase date.  Buyer is responsible for the return freight cost. Warranty Claims All warranty claims must be directed to our Customer Service team by sending a message to us through In order to make a claim, you must provide the Help Centre with:- Details of the defect or damage in relation to which you are making a claim under the warranty;- photographic evidence of the defect or damage, where applicable;- your invoice (including order number) and any other proof of purchase; and  any other details we may need to process your claim.Where goods are damaged or defective upon delivery, you must provide photographic evidence of the damage before receiving a repair, replacement or refund. Our Customer Service will provide you with instructions as to how the goods may be returned to us at our expense.Except as required by law (including the Australian Consumer Law), this warranty shall not apply in respect of goods: - where the goods have not been installed, maintained, operated or used in accordance with the manufacturer's instructions or any other specifications provided with the goods;- where damage or defects are caused by deliberate or negligent misuse or abuse, physical alteration, fire, liquid spillage, use of incorrect voltage, power surges or dips, thunderstorm activity, force majeure, voltage supply problems, tampering or unauthorised repairs by any persons, use of defective or incompatible accessories, computer viruses, corrosive conditions or introduction by an insect, pest or other foreign body;- where damage results from any third party software or hardware not provided by us;- where items are lost or stolen; and - in relation to repairs of batteries, where the batteries have not been used in accordance with specifications or they expire by normal use.   Except as required by law (including the Australian Consumer Law), our liability under this warranty shall not exceed the amount of the purchase price of the goods or the replacement of the goods with the same or a similar product. Terms & ConditionsDo not bid/buy if you do NOT agree to the "Terms & Conditions" All policies in the description form part of the "Terms & Conditions". You must pay after you have made the purchase. Fail to pay after 7 days of purchase may result in negative feedback and be reported to as a non-paying buyer, and the item being re-listed unless other arrangements have been granted by the seller. You must agree to our postage and handling charges before bidding/buying. In case of a refund, the inspection and restocking fee from $7 will NOT be refunded in most of the cases. We may occasionally send you newsletters via email. Under no circumstances will OZhomedirect be liable for any direct, indirect, incidental, consequential, or other damages resulting from any products purchased from Ozhomedirect beyond the value of products purchased, including, but not limited to, any lost profits, time, business interruption, or loss of programs or information. It is buyer's responsibility to check the product purchased whether it complies with their local state's standard and regulations.