ROBLOX GANG Kids T-Shirt, Children Computer Game Tee Size 2-16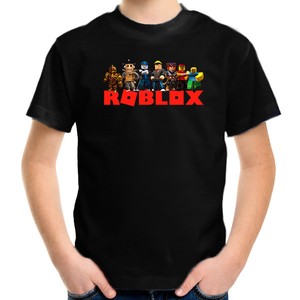 ---
"ROBLOX GANG" Kids T-Shirt Computer Console Tee
Description Printed on a Light-Weight T-Shirt.
The T-Shirt The T-Shirt is a 150-180gsm Jersey Knit Combed Cotton Wash Super Soft Light-Weight T-Shirt. Please Check the Size Guide in the Photos, Australian Fit and the style is Modern, T-Shirt Shoulder-to-shoulder tape and seamed collar, Double-needle sleeve and bottom hem. Kids, Men, Ladies Options are Available.
Available Sizes The Men T Shirts are available in X Small through to 5XL. The Ladies T Shirts are available in Size 8 through to Size 20. The Kids T Shirts are available in Size 2 through to Size 16.
Washing Tips Machine wash, inside out, cold to cool wash on gentle cycle. Dry in the shade inside out, do not tumble dry, do not use harsh chemicals, and do not dry clean. Item condition This is a brand-new and printed to order, unused, and unworn. Shipping We Ship all of our T Shirts with Australia Post. We try to ship the next Business day after your purchase, but from time to time we do experience delays and ask that you give up to 7 Business days for your T-Shirt to arrive. For International Postage, please allow an adequate amount of time for your T-Shirt to arrive. We post the T-Shirts out as a Large Letter. (From time to time we will ship with Fastway Couriers this is done at our discretion). Your T-Shirt will be sent with Normal Post without tracking, International Post is via Normal Postage only. (Please be aware we have no control over Australia Post or Fastway Couriers delivery time frames. Sizing Your T-Shirt Lay a T-Shirt that fits well onto a flat surface, measure under the arms and the length as shown in the Size Guide (in the Product Pictures), compare Sizes to the chart and choose the Size that Suits you. Stock We have stock of this style on hand at all times, if for some reason we are short on stock we will let you know. Please be aware that all pictures are for illustration purposes and may vary somewhat to the actual T-Shirt, Manufactures work with a 2.5 cm Tolerance on their sizing guides. The T-Shirt is Pre-Shrunk. Some Shrinkage may occur on the first wash. Please Read our Policies before purchasing to be aware of our terms and conditions.
If you have a Problem with your T-Shirt Please contact us through messages if you have a problem and we will work with you to get it sorted, opening a case with will limit what we can do to help.
Our Returns Policy, at T-Shirts by David our aim is to supply T-Shirts and products that you love. We take great care and are proud of the level of quality. In the unlikely event that you don't love your item, please follow these instructions to return/receive a new product: Contact us through messages within 14 days from date of your purchase. Your shipping address. A description of your product (as stated on the listing). A photo and description of the fault/damage. Once received we will contact you and organise a replacement or a refund (where possible), after receipt of returned item. The cost of return shipping will be at customer's expense. All faulty items must be returned to us. What can be returned: Returns are only accepted within 30 days of receipt of purchase. Only damaged/faulty items, or faulty prints can be returned/exchanged. Please note that we do not accept items that have noticeable wear or damage (i.e tears in fabric, make-up or other stains). We do not consider exchange for incorrect product selection (size only) please ensure you check your sizing at the time of purchase. Please remember to check our sizing charts or contact us for advice before purchase. Unfortunately, we cannot accept returns for: Change of mind. Shipping or stock delays. Damage due to wear and tear, or from being washed incorrectly, are not considered faulty, therefore are not eligible for exchange or refund. All replacement apparel is handled by normal post. No express postage is available on return or exchange items. Please be aware that images on the listing are representations of the product only and should be used as a guide. Some variation in print colour and size may occur. We cannot accept responsibility for this. Please allow a 20% variation on both the prints and garments, as well as a 20% difference in the print size. Note: sizing measurements online are within +- 2.5cm as per manufacturer's specifications, anything outside of this is faulty and is eligible for exchange. If you do have concerns with your product please contact us through message. We're happy to discuss any problems you may have.