RRP $199! AU Mystery Cab Sauv/ Shiraz/ Merlot Export Only Mystery 2016 Cases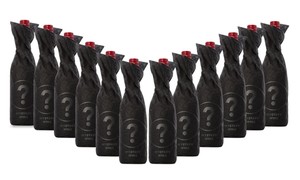 ---
RRP $199! AU Mystery Cab Sauv/ Shiraz/Merlot Red Wine Export Only Mystery Case 2016 (12x750ml)
Free Shipping! Big Brands! Crazy Low Prices! Excellent Service
We could not resist and export all of these 2016 Export Only Mystery Shiraz, Cabernet Sauvignon and Merlot, so we held a limited amount back to offer to our customers.
Tasting Notes:
Cabernet Sauvignon
The colour is deep, leading to a bouquet of violet and cassis and a touch of dark chocolate.
An ideal accompaniment to richer dishes such as duck, goose and game - try it with Peking duck pancakes, grilled spicy Italian sausages or venison pie.
Alc:                         13.8%
Shiraz
Deep red in colour with a black core and a bouquet of charcoal chocolate notes with dark plum and mocha, finishing with soft velvety tannins and rich opulent fruit on the palate.
Excellent with rare roast beef, rich casseroles, beef and game pies, and of course great aged cheddar.
Alc:                         13.5%
Merlot
Deep red-black colour with a dark centre with a bouquet loaded with spicy plum and chocolate notes and the palate is typically firm and rich
Perfect with roast beef, grilled steak, hearty casseroles such as braised ox tail or lamb shanks.
Alc:                         14.5%
All
Region:                 Australia SEA
Vintage:                2016
Case:                   12 Bottles
Size:                     750ml
Closure:               Screw Top
No Shipping to NT and Dry Zones.
Liquor Act 2007
It is against the law to sell or supply alcohol to, or to obtain alcohol on behalf of, a person under the age of 18 years.
Liquor license LIQP770017007