Universal 3D Bluetooth Rechargeable Active Shutter Glasses For Sony/Samsung 3DTV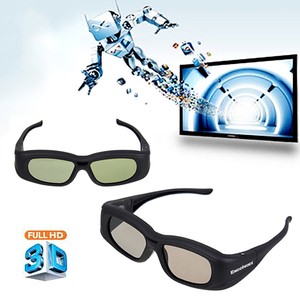 ---
Smartareain Business & Industrial Battery & AC Adapter Cellphones & Accessories Computer/Tablets&Networking Health & Beauty Home Security&Alarm Home/Garden Furniture&DIY Jewelry & Watches Projector Sporting Goods Toys & Hobbies Vehicle Parts Universal 3D Bluetooth Rechargeable Active Shutter Glasses For Sony/Samsung 3DTV

Universal 3D Active Shutter Glasses (Bluetooth) For Sony / Panasonic / Sharp / Toshiba / Mitsubishi / Samsung 3DTV

Item specifics

Condition: New: A brand-new, unused, unopened, undamaged item in its original packaging

Type: 3D Bluetooth Rechargeable Active Shutter Glasses

Dimension: 165 × 40 × 165 mm

Battery Type: 3.7v / 70mAh Rechargeable Lithium-ion Battery

Synchronous: Bluetooth

Frequency: 120 Hz

Compatibility:Sony/Panasonic/Sharp/Toshiba/Mitsubishi/Samsung 3DTV

Color: Black

Key Features:

1. Delivers a true 3D experience - For watching your favorite movies in a new way.

2. Supports Bluetooth signal for LG / Sony / Panasonic / Sharp / Toshiba / Mitsubishi / Philips / Samsung 3DTV.

3. Power: Built-in high capacity rechargeable battery- Auto power off function, energy efficiency.

4. Rechargeable, Micro-USB, more convenient

5. User-friendly electronic circuit design, One single button, easy operation.

6. Cool appearance, light design, 46g, comfortable to wear without dizziness.

7. High-speed response of high-quality liquid crystal lenses, prevent from eye strain.

8. Nose pads using silicone material, comfort and durability.

9. The appearance of innovative treatment process, to eliminate electromagnetic interference.

10. The frame using ABS PC material, low energy, low carbon and environmental protection.

11. High permeability rate of perfect quality, no flash smelting, no blur.

12. With auto Power-off function, stability, energy-efficient.

13. Low-power self-detected function, low battery LED flashes to prompt the user when battery is low

Specifications:
| | |
| --- | --- |
| 3D Glasses type | Active shutter glasses |
| Synchronous | Bluetooth |
| Display compatibility | 3D TVs, 3D Blu-ray |
| Frequency | 120HZ |
| Response time | 2.0ms |
| Contrast | 750:1 |
| Transmission | >=37% |
| Battery Type | 3.7V / 70mAh rechargeable lithium-ion |
| Contentiously working time | up to 40 hours |
| Charge time | 2 hours |
| Net Weight | 46g |
| Operating temperature | 0 ℃ - 40 ℃ |
| Relative Humidity | 20% - 80% |
| Atmospheric pressure | 86 kPa - 106 kPa |
| Color | Black |
Compatible TV Model:
1.We just choose certain typical compatible models listed in the below table to show the glasses fit for the series. If you don't find your model. Feel free to contact us to check the compatile model for you. The below list are all have been tested.
BLUETOOTH 3D TV
Compatible List:
Panasonic
Samsung
TC-L42ET5
UN65ES8000
PN64E8000
UN65D8000X
PS64D8000FJ
TC-P42UT50
UN55ES7550
PN64E7000
UN46D8000YF
PS43D490A1
TC-P50ST50
UN60ES7500
PN60E6500
UN55D7900XF
PS43D490A1
TC-50GT50
UN60ES7100
PN64E550
UN60D7050WF
UA40D6000
TC-L47WT50
UN55ES6900
PN60E530
UN60D7000LF
UA46D6000
TC-L47DT50
UN55ES6580
PN51E490
UN60D6900WF
UA55D6000
TC-L47DT50
UN65ES6550
PN60E8000
UN60D6500VF
UA55D6400
TC-P50XT50
UN55EH6070
PN60E7000
UN55D6450UF
UA46D7000
TC-L47ET5
UN40EH6030
PN51E6500
UN55D6420UF
UA55D7000
TC-P50UT50
UN60ES8000
PN60E550
UN60D6400UF
UA55D8000
TC-P55ST50
UN46ES7550
PN51E530
UN32D6400UF
UA55D6000
TC-P55GT50
UN55ES7500
PN51E8000
UN55D6300SF
UE40D6530
TC-L55WT50
UN55ES7100
PN51E7000
UN65D8000YF
UN55D6420UFXZA
TC-P65VT50
UN50ES6900
PN51E550
UN46D7900XF
PN51D550
TC-L55DT50
UN50ES6580
UN55D6300SF
UN55D7050XF
UN55D7000LF
TC-L55ET5
UN55ES6550
PN64D8000FF
UN55D7000LF
PN51D490
TC-P55UT50
UN60ES6500
PN64D7000FF
UN55D6900WF
PN51D550C1F
TC-P65ST50
UN40ES6500
PN59D6500DF
UN55D6500VF
PN51D550C1FXZC
TC-P60GT50
UN46EH6070
PND51D550
UN46D6450UF
PN51D550
TC-P60UT50
UN55ES8000
PN59D490
UN46D6420UF
UE32EH6030
TC-P60ST50
UN46ES7500
UN46D6300SF
UN55D6400UF
TC-P65GT50
UN46ES7100
PN59D8000FF
UN55D8000X
TC-P42UT50
UN46ES6580
PN59D7000FF
UN46D7050XF
TX-P50ST50B
UN55ES6500
PN51D6500DF
UN46D7000LF
UN32ES6500
PND59D550
UN46D6900WF
UN65ES8000
PN51D7000FF
UN46D6500VF
UN40ES6580
UN40D6300SF
UN40D6420UF
UN50ES6500
PN51D8000FF
UN46D6400UF
PN51D7000FF
UN55D8000YF
PND64D550
UN40D6500VF
PN49D490
UN40D6400UF
KDL-40NX720
Not Compatible with:
Panasonic
Samsung
Sharp
Toshiba
Sony
TX-P50GT50
PS50C680G5KXXU
LC60LE652E
50L5333DG
XBR-55X855B
TX-P42GT30E
UN46ES6500
LC-LE-E
LSeries
TXP42ST50B
UE50ES6300
TLSeries
TX P50GT50E
TX-P50VT20BA
TX-48ASR650
Package Content: 1X 3D Active TV Glasses. 1X USB Cables 1X Storage Bag 1X Cloth 1X User's Manual

About us

Welcome to our store!We supply many products including computers accessories, camera & camcorder accessories, phone accessories,car accessories & Consumer Electronics.High product quality, reasonable prices, excellent customer service and a reliable credit standing is our tenet.

Thank you for shopping at our Store.

Payment method

1.We accept PayPal only.

2.NOTE: Payment should be sent within 4 (FOUR) days of auction closing. Or unpaid dispute will be filed for closing auction. Please contact us if you have any questions of payment procedures.

Shipping Policy

1.How much is shipping and handling (S&H)? The shipping and handling costs will be clearly marked on the auction item page.

2.Please make sure the Ship-To address you type during checkout is correct. We are not responsible for any wrong or undeliverable addresses.

3.Local pick up is not available.

4.Items are generally shipped out the next business day after your payment has been cleared (Sat. & Sun. excluded.).

5.An e-mail will be sent to your e-mail address upon item is shipped out. If you do not receive this e-mail in 48 Business Hours, please contact us to check the status of your transaction. .

6.International Buyers - Please Note: Import duties, taxes, and charges are not included in the item price or shipping cost. These charges are the buyer's responsibility. Please check with your country's customs office to determine what these additional costs will be prior to bidding or buying. Customs fees are normally charged by the shipping company or collected when you pick the item up. These fees are not additional shipping charges.

Return & Warranty

1.Our items come with one-year warranty.

2.Our warranty does not extended to any products that are physically damaged or that are not under normal operating conditions as a result of misuse or improper installation on the buyer/user's part.

3.This product comes with 30-Day Money Back Guarantee.

4.We stand behind every product we sell. If you're not pleased with your purchase, we'll be happy to make an exchange or refund.

5.For all returned products, please contact us for the returning address.

Reply

1.ALL replies will be sent to your email, if you don't get response within 1-2 business days, pls check your My Messages in case your email provider has an overly-aggressive spam filterblocking 's emails. Please email us AGAIN.

2.Email is the priority of our customer service.

Feedback

1.You will receive our positive feedback as soon as you pay for your item. 2. Your better comments will be an encouragement for us to offer the better quality and the better service in future. 3.If you are not satisfied with them, please contact us first via Ask a Question or via Contact Seller. Your messages will be answered within 1-2 business day. We shall try our best to solve your problem to your satisfaction.