Wife Husband Love Heart Genuine Sterling Silver Dangle Charm Bead for Bracelet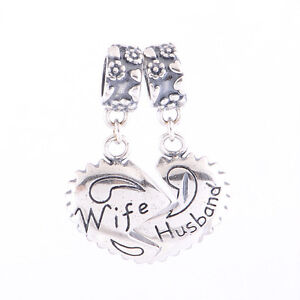 ---
Wife Husband Love Heart Genuine Sterling Silver Dangle Charm Bead for Bracelet STORE HOME ADD TO FAVOURITES NEWSLETTER CONTACT US SHOP BY COLOUR PINK RED SILVER GOLD BLUE GREEN PURPLE JEWELLERY CARE For More Inspiration See in Store Bracelets Charms RINGS EARRINGS Pendants INSPIRATION ITEM DESCRIPTION

We believe creating a bracelet is a lifelong journey collecting treasured keepsake memories along the way...

 

An Exclusive Jewellery Collection

 

Silver Collection

 

What a momentous gift to your loved one…

Representing your bond as Husband and Wife

Cherish this charm forever

 

A Stunning Superior Quality Sterling Silver two piece Love Heart Dangle

Inscribed with the words "Husband" & "Wife" 

Featuring a flower embossed band

 

An impressive design that will be a delightful treasured gift

 

We guarantee you will be thrilled and absolutely delighted with your purchase

 

Bracelet is for illustration purposes only and is NOT included

FEATURES INCLUDE

 

This charm is interchangeable with all Pandora Snake Style bracelets

  Solid Sterling Silver with a highly polished finished

 

You will receive the following

1 x brand new Sterling Silver Charm - Hallmarked 925

In a keepsake gift pouch

 

Charm Specifications

Materials: Sterling Silver 925 | Brand: Generic European

Approx Size: 25mm x 20mm

PAYMENT

INTERNATIONAL Buyers: Any IMPORT CUSTOM DUTIES AND TAXES CHARGED, are the sole responsibility of the buyer.We accept secure payments by: PayPal | Visa Card | MasterCard | Bank Deposit

SHIPPING

Dispatch Timeframe: We ship within one business working day to your address.Please refer to www.auspost.com.au for further information.AUSTRALIAStandard Mail - Delivered direct to your letter box within 6 working days depending on location.Registered Mail - Delivered direct to your door within 10 working days requiring identification and signature.Express Post - Next day delivery provided your postcode is included in the Australian Express Postal Network. If you are located outside of this area, delivery will occur as soon as possible.INTERNATIONALBE AWARE - Import Custom Duty, VAT or any associated TAX CHARGES are the sole responsibility of the BUYER.Postage Quote - Please contact us via the messaging system.Standard Mail - Delivered to your letter box within 7-20 working days depending on your location.Registered Mail - Delivered direct to your door requiring identification and signature. Delivery will vary from country to country and may take up to 20 working days to arrive.

GUARANTEE

MONEY BACK GUARANTEEIn the unlikely event that you are not 100% absolutely thrilled and delighted with your purchase we will provide you a full refund within 30 days from the date of purchase.RETURN POSTAGEThe buyer is responsible for return postage payment and provided the returned item has not been tampered with, a full 100% refund will apply.FAULTY ITEMSShould you find the product faulty, please contact us immediately in the first instance and provide an image of the faulty item. We offer a no charge free replacement provided the item is in stock. If the item is not available, we will refund your money in full.EARRINGSIn accordance with Australian Law unfortunately earrings cannot be returned due to health and hygiene concerns, unless faulty.

CONTACT US

Click Here to Contact Us

SIZING

CHARMSAll Exclusive Jewellery Collection (EJC) Charms will fit Pandora Style Bracelets and may be either threaded or unthreaded.STERLING SILVER BRACELETSSterling Silver snake style bracelets will extend slightly in length over time. This is due to the amount of time worn, how heavy and how many charms are on the bracelet itself. As a guide we recommend adding 3cm to your wrist measurement to determine your correct bracelet size.LEATHER BRACELETSThese bracelets are minimalist in style and we recommend wearing a maximum of 9 charms. As with all leather products you can expect a little softening and malleability through everyday wear, therefore choosing a bracelet slightly smaller is best.HOW TO OPEN AND CLOSE CLASPSThe threaded end will easily fit into the tiny round slot in the barrel snuggly. Once in the slot gently but firmly apply a small amount of pressure to close the clasp shut. If it is difficult to close, stop and check it has been inserted correctly as further closure could cause damage. You will definitely hear a 'snap' noise when the clasp has been closed correctly. To open the bracelet, apply a finger nail into the joined barrel sections and gently but firmly push down, this will release the clasp open.RING SIZING CHART© Copyright Exclusive Jewellery Collection

© Exclusive Jewellery Collection. All Rights Reserved.